Driven by Passion
Mechanical engineer Sylvia Duran manages a day job, an on-and-off freelance design job and a part-time CAD instructor's role. She's also president of her local SOLIDWORKS and American Society of Mechanical Engineers (ASME) groups. Her love of engineering powers her days.
Duran thanks the movie RoboCop for her career as a mechanical engineer and designer. She works full days and many nights in roles she never fails to find fascinating. Seeing the classic robotics-infused film has inspired her dream, even if she doesn't design futuristic prosthetic arms.
"I wanted to design really smart prosthetics," she said. "But I wasn't able to study that at the university I went to, so I became a mechanical engineer because I wanted to design the future and help people."
Many emerging engineers echo those sentiments. Duran lives them by passing on her knowledge and her love of engineering to students.
After earning a bachelor's degree in mechanical engineering at California State University, Los Angeles, she moved to Las Vegas and took a job at Scientific Games, which makes gaming hardware for lottery systems and slot machines. When parts are out of spec, Duran investigates to determine whether the spec and tolerance issues lie with the part's design, the manufacturing method, or the gaming system's vendor. She then works with other engineers to redesign the part or suggests to a vendor how a part could be reworked.
She's learned to advocate for clear technical drawings, which mechanical engineers tend to dislike creating. "A part," Duran said, "is only as good as the tolerances included within the technical drawing."
"Mechanical engineers can design a part perfectly, but if they didn't communicate the tolerances, that can be a problem," Duran said. "Sometimes they'll forget to put dimensions on a drawing, or they'll miscalculate the stack of tolerances."
"But once a part is finalized, and the mold is made, it's used to make thousands of the parts, and it's costly to change the mold," she said.
Sometimes Duran takes freelance jobs on the side. A recent project with Cirque du Soleil proved exciting and engrossing, even if she wasn't walking a tightrope across the stage. Rather, she created a 3D model of the stage from existing 2D drawings and hand measurements. Engineers in Canada used her model to design a new set to retrofit the existing stage.
She also shines at SOLIDWORKS users group meetings. Duran, who first used the CAD program in 2007, during her college days, founded the Las Vegas SOLIDWORKS User Group in 2009 and is the group's current president. She's also an active member and officer of the ASME Silver State Section.
The SOLIDWORKS group meets quarterly. Duran suspects that about 25 regulars began attending for the free food and "ended up loving the presentations and the community."
"The SOLIDWORKS community is great because everybody supports each other," she said.
User group presentations have included a tutorial on mates within CAD and a tutorial on the weldments function within SOLIDWORKS, which Duran used in her work for Cirque du Soleil. With the Weldment feature, engineers can design a weldment structure as a single multibody part.
At a University of Nevada, Las Vegas ASME student meeting, Duran showed students how to use the weldments feature. The UNLV chapter of the Society of Automotive Engineers (SAE), which had just designed a mini dune buggy for the annual Mini Baja Competition, was struggling with weldment design. "They said, 'It's this easy?' They hadn't known about that feature," Duran said.
Through the Baja SAE competition, college teams design, make and race a single passenger vehicle that's powered by a 10 HP, four-stroke gasoline engine.
"We stayed after our presentations and were bombarded with questions. And now they're able to use it to design their vehicles," she said. "I didn't know about that feature either at school. I learned it at work for piping and it was the best thing ever."
Lest you think Duran rests on one of her rare days off, think again. Those days are when her love of engineering and her desire to share that passion really come to the fore.
Though she's not teaching this semester, she has taught SOLIDWORKS at the College of Southern Nevada (part time, of course).
"It's really rewarding because you meet older people and, at the beginning of the program, they don't know where they escape key is. But by the end, they're passing the CSWA [Certified SOLIDWORKS Associate] perfectly and they're certified," Duran said.
During Engineers Week, a national event designed to engage students in engineering, she's spoken to elementary and secondary students about engineering, and the importance of engineers.
"I want to bring engineering to schools and expose kids to engineering," she said.
All of this begs the question. How does she have time?
"I'm a driven person and I enjoy everything I do," she said. "So I just make time."
Certainly her coworkers at her day and evening jobs, her fellow SOLIDWORKS and ASME group members, and the students she teaches and talks to are all glad she's found the time for them.
---
About the Author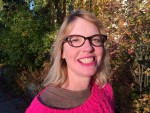 Jean Thilmany has written about engineering software and design, engineering and manufacturing issues for more than ten years. Her work has appeared in Manufacturing Business Technology, HR and Packaging magazines, among many others.